Angels are With Us: Rescues and Miracles Through Divine Intervention
Throughout the world, there are descriptions of people who have experienced miracles for themselves or miracles on behalf of loved ones. Others are convinced they've heard the voice of God. Here are some of their stories.
The Visionaries of Medjugorje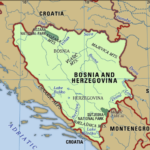 In a small town in Bosnia-Hercegovina in 1981, a group of six Croatian teenage children reported seeing visions of Mary, the mother of Jesus. Called the visionaries of Medjugorje, the children, now adults, said they were provided specific prayers from Mary to say for the sick, the young, and those that are lost. While some claim the reported apparitions were a hoax, it hasn't stopped the 30 million people who have made a pilgrimage to the site since it was first reported in 1981.
 "Her beauty cannot be described. It is not our kind of beauty – that is something ethereal – something heavenly – something that we'll only see in paradise, and then only to a certain degree."  – Description of Mary, visionaries of Medjugorje
She Couldn't Believe Her Eyes
Nine-year-old Elysia Laub was sitting at home in rural Indiana when she was told to step outside. She thought the voice was all in her head and turned around. As she was about to enter the front door, she heard a noise in some nearby bushes and was told to investigate it. She took a closer look, and there, beneath the bushes, was a newborn baby with its umbilical cord still attached. Elysia ran inside to get her mother, Heidi, who picked up the baby and called police. The police department determined the baby had been abandoned, but other than experiencing a sunburn and a few bug bites, the newborn survived.
The Hospital Angel of Parkersburg, West Virginia
Author Cindy Parmiter shared a friend's story about a lady named Patricia who was transported to a hospital in Parkersburg, West Virginia hospital after she experienced a stroke. As soon as Patricia began to recover, she asked about the whereabouts of her nurse, Kelly, who helped her when she first arrived. Her question confounded the hospital staff as Patricia was unresponsive and unconscious when she was admitted and could not have spoken to anyone. Patricia insisted Kelly was there and described her as being in her late 20s, with long blonde wavy hair and blue eyes. She wore white. The night she was admitted, Patricia recalled asking Kelly if she was going to die. Kelly squeezed her hand and whispered to her that "she would be alright … and would live to see her grandchildren grow up." Staff confirmed there were no nurses named Kelly at the hospital. However, over the years, a number of patients described the same sweet and gentle nurse reassuring them when they were admitted.
The Story of Deepika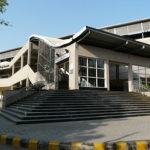 Deepika and a friend played a game where they would pick out a place to explore in Delhi, India, and then take public transportation to explore the area. On this day, they decided to visit three temples. However, as the pair began to walk from the first temple to the second one, it became dark and neither was able to determine how to turn around and get back home safely. They began to pray. It was at that moment they noticed a thin man in his 40s walking in front of them. They began to follow him. When they stopped, he stopped, but he never looked back, Deepika said. The man led them through the darkness back to the train station and said, "This is Kalkaji metro station, you can go now."
"Miracles can happen anywhere all you need is belief." – Deepika Parashar
Help Me!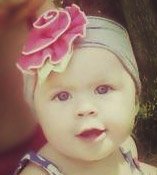 On a spring night in 2015, rescuers were called to respond to an accident on the Spanish Fork River in Utah where a car had flipped over in the river. The firefighters and police on the scene later confirmed they heard a female call out: "Help Me! Help Us!" Once they were able to turn over the car and look inside, they saw an 18-month-old little girl, Lily, was unconscious and not breathing. She had been hanging upside down in her car seat. It was 42 degrees, Lily had been hanging upside down for 14 hours. Lily survived. Her mom, authorities said later, died on impact. So who called out for help?
He Fell 200 Feet to Earth and Survived
Korey loved to skydive because he believed it brought him closer to God. By November 2017, he enjoyed the sport so much he became a skydiving instructor.
It was also around this time he did a jump he would never forget.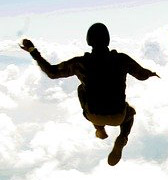 When he and another skydiver were in the air, they collided 200 feet above the ground and fell to the earth. By some miracle both survived. Korey had a broken neck, broken ribs and internal injuries. His parents were warned Korey might be permanently paralyzed due to the fall. So, the family prayed. When the trauma doctor operated on Korey, he was amazed to find that despite Korey's extensive injuries, "he could move everything." Korey was not paralyzed and made a full recovery. Today he works as a sky diving instructor again.
Need Angelic Intervention? Just Ask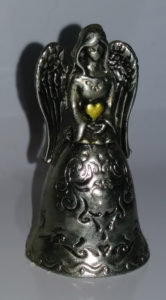 I keep a little angel bell on my kitchen windowsill; it's a gift from my friend Stephanie.
Whenever I think about a person who needs prayers or angelic intervention, I ring the bell. It's my way of asking the angels to help someone who is in trouble or in need of some divine assistance.
Angels are divine messengers who provide guidance, protection and comfort.
Angels may appear to us in different ways, they may be represented by a flash of light, a spark you see from the corner of your eye, or you may feel a change of air pressure around you. Angels may show their presence through a warm breeze or a good feeling overall.
If an angel needs to share divine guidance you may hear it as an outside voice or hear it as a soft inner voice. If you do, know angels speak to you with love by empowering you to do what is best for you.